Exercising Your Jaw Could Prevent an Increase in TMJ Pain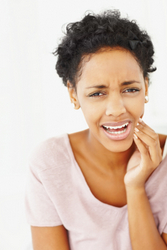 An essential part of reducing the pain associated with temporomandibular joint (TMJ) disorder is physical therapy exercises. If left unchecked, the condition can cause a lot of pain, difficulty doing the most basic of things such as yawning or eating, and clicking in the jaw.

A crucial part of the TMJ treatment is working to decrease the inflammation and pain, together with restoring the normal range of motion of the jaw joint. To this end, we provide exercises which can be done to decrease pain, restore the normal range of motion, and eliminate feelings of a locked jaw.


TMJ Rotation While Opening

This is one of the most effective exercises when it comes to recovering from TMJ. It involves a controlled opening to make sure that the jaw is moving rotationally and not forward in a way that it will protrude. This exercise involves placing your tongue on the hard palate behind your teeth and keeping it in place while slowly opening your mouth. It's crucial to make sure your tongue does not leave the palate since it will ensure the mouth jaw stays in place. Do it for about six seconds, take a break and repeat for five more times.


Opening the Jaw with Resistance

To improve muscular operations around the jaw, using some light resistance is highly recommended. To do this exercise, lightly place two fingers on your chin and then proceed to slowly open and close your mouth. As you continue, you can increase the pressure to make the muscles stronger.



Shoulder Retraction


The muscles around the shoulders, neck, and face are all intertwined. Therefore, posture has a big role to play when it comes to keeping TMJ pain at bay. Shoulder scapular retraction is an effective exercise that helps postural awareness while also keeping the pain away. Here, you are required to sit upright in a chair and draw in your shoulder blades. Once fully drawn in, hold the position for about 8 seconds and release. Then repeat five times.

Exercising your jaw is a big step in managing TMJ pain. Although it might be difficult at first, be persistent and soon enough you will feel the results. If you have any questions, please don't hesitate to book an appointment with us. We'll be glad to help.