How Your Diet Can Help You Manage Your TMJ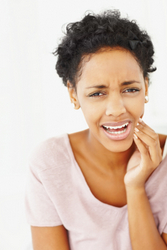 Temporomandibular Joint Disorder is a serious problem that no one should ignore. For some people the issues caused by TMJ are not a big deal. They are a minor inconvenience that does not require much effort to overcome.

For others, the problems of TMJ are very disruptive. Whether a person has minor issues or big problems from TMJ, they need to consider the effect their diet has on the condition. Making changes in this area can make a big difference.


Avoiding and Including Foods

There are two ways that you can use your diet to help manage the symptoms of TMJ. The first is by avoiding foods that will aggravate the TMJ. The second is by including foods that can help with the symptoms of TMJ.
When thinking about foods to avoid, think about the foods that will stress the joints in your jaw. Chewing gum is one of the biggest foods to stay away from.

Other overly chewing foods can also cause the stress. In addition to avoiding foods that will cause stress to the TMJ, you also need to look at what is in the foods. Foods that are high in salicylates can aggravate the symptoms. These foods include jams and jellies along with hot peppers, olives, radishes and tomatoes.



What is Left to Eat?


Suffering from TMJ does not mean you cannot eat foods that you can enjoy. Focus on finding foods that will help with joint health. This includes foods high in magnesium and hyaluronic acid. Red organ meat is an example of this type of food.

When looking at a diet to follow to help with TMJ, it is important to know that you do not want to avoid the foods or include the foods when you suffer from the symptoms of TMJ. Eating the right foods is a way to stop some of the symptoms from affecting you or minimize their impact when the TMJ flares.

For more information about this or any other oral health issue, contact our office to schedule an appointment.