Can My Wisdom Teeth be Removed Fully Intact or In Sections?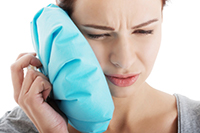 Due to their positioning at the rear of the mouth and propensity for impaction, wisdom teeth can create particular difficulties when it pertains to removal. The dentist and oral surgeon determine the ability to extract wisdom teeth completely intact or in pieces based on an evaluation of each case individually.


Intact Removal

A wisdom tooth may be extracted as a single component if it has entirely erupted and its root maturation has been reasonably simple. This method may be less complicated and less intrusive in general. Most wisdom teeth are completely or partially impacted; therefore, fully erupted wisdom teeth are uncommon instead of the norm.


Removal In Sections

Impacted wisdom teeth include those that cannot fully emerge or align correctly with surrounding teeth due to a lack of available space. In such circumstances, the tooth may be extracted in pieces. To facilitate extraction, this method includes cutting the tooth into smaller fragments. Planning goes into the procedure to reduce damage to nearby tissues and bones.


Factors Influencing Approach

The procedure used is highly influenced by the extent of impaction and the tooth's location concerning the jawbone and surrounding teeth. For effective elimination, severely damaged teeth frequently need to be sectioned. The removal method may be affected by the tooth's orientation and angulation.

Teeth that are horizontal or diagonal are more inclined to need to be sectioned. The oral surgeon's knowledge and ability determine the most effective procedure. They will weigh the case's intricacy before making a choice. If a tooth requires to be taken in sections or if it may be safely removed in one piece, it depends on the point of root growth.

To guarantee a quick, pleasant rehabilitation, heed the advice of your dentist and attentively follow any pre- and post-operative guidelines. Contact us today for further information or to schedule an appointment with us.