How To Treat Swollen Gums Near Wisdom Teeth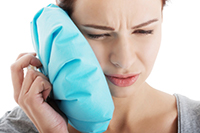 When wisdom teeth come in, they push themselves through the gums. Between the ages of 17 and 21, most people begin to feel their wisdom teeth coming out. That sensation left by a tooth that is pushing itself forcefully through the gums is what causes pain. Besides, most adults barely have enough space for wisdom teeth to pop through. The limited space leaves cause the wisdom teeth to get stuck or not come in fully. If the wisdom teeth do not come out correctly, the gums are left vulnerable since food particles and bacteria are trapped. The question is, how are swollen gums treated?


Treating Swollen Gums

Apart from using inflammatory meds, some home remedies can help ease the swelling of gums next to wisdom teeth. Let's discuss home remedies that can be used to ease the pain on the swollen gums.


Ice Pack
The first home remedy that can be used for swollen gums is using an ice pack. When an ice pack is applied on the site where the gum is swollen, it will relieve the swelling and pain. You can use the pack for 15 minutes with breaks in between until you can feel the inflammation and it hurts no more.


Rinsing With Saltwater
The natural disinfectant properties found in salt help ease swelling in the gums. The cause of pain around the swollen gums is usually due to bacteria buildup around the wisdom teeth broken gums. Hence, rinsing with salty water can help treat the infected area and reduce any discomfort felt.


Onion
Onions are known to have antimicrobial and anti-inflammatory properties. This makes onions a good asset that can help fight bacterial infections and reduce swelling. Use onion juice in the gums where swelling or redness is seen to kill the bacteria and deal with the inflammation.